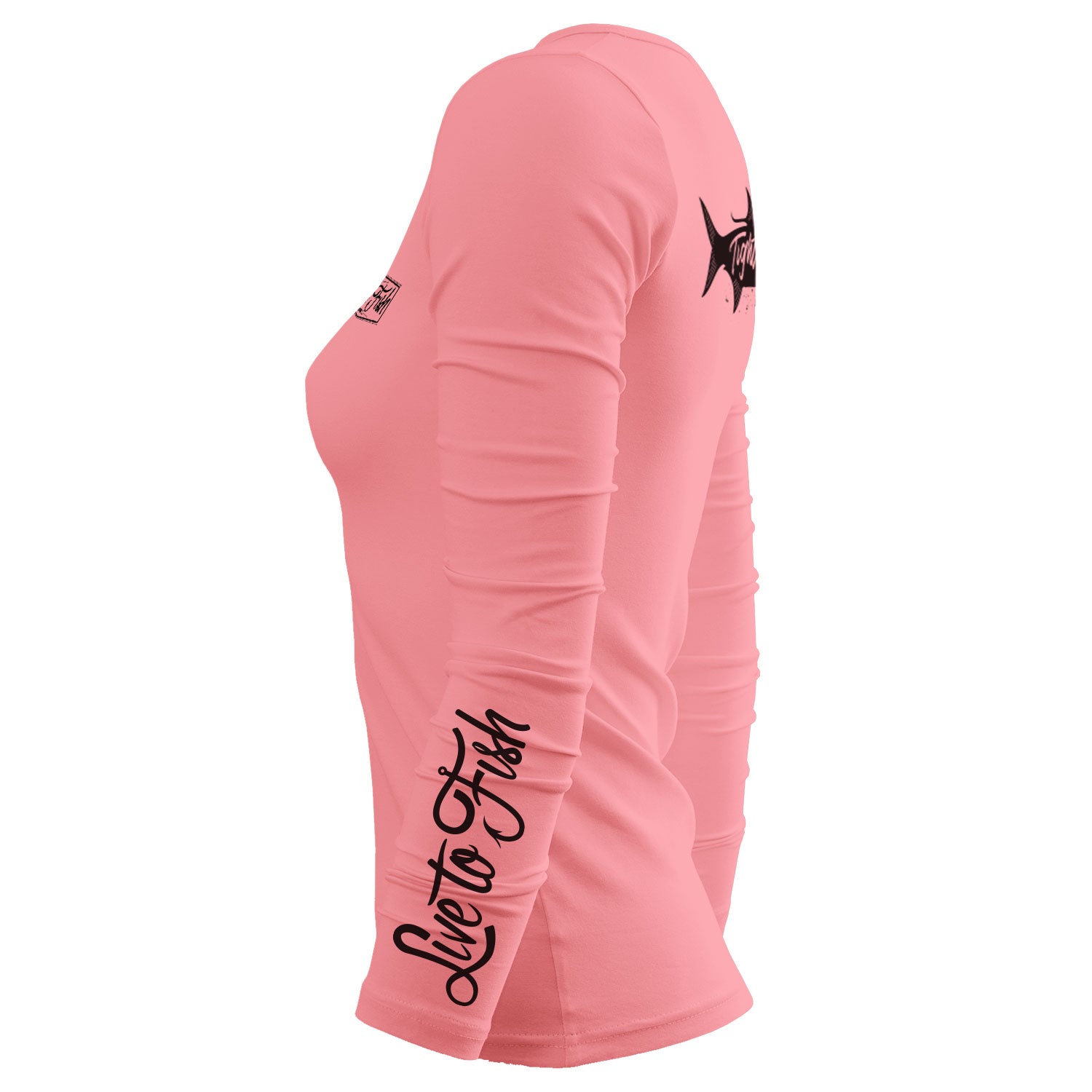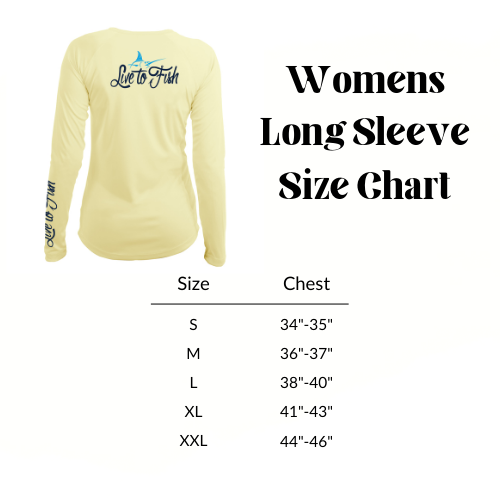 Tight Lines Tarpon Ladies Long Sleeve UV Shirt, Pk | Live to Fish
Regular price

Sale price

$40.00

Unit price

per
Please hurry! Only 5 left in stock
10 customers are viewing this product
Hassle-Free Exchanges
Here's the 411 for receiving a full refund
Fabric/Material
100% Microfiber Polyester
Fabric/Material Features
UPF 50+ Sun Protection, Anti-Microbial, & Moisture-Wicking
Sizes Available
Small / Medium / Large / XL / XXL
Front - Left Chest Logo
Est. Fla.
Left Sleeve Logo
Live to Fish Script
Back Logo
Live to Fish Tight Lines Tarpon
Tight Lines Tarpon UPF 50+ Women's Long Sleeve Shirt, Coral Pink
Inspired by the Thrill of a Tight Line
"Tight lines" is a very common saying among anglers today. It means that you're experiencing the one thing that keeps anglers coming back for more, as well as what makes fishing so exhilarating for all those that are lucky enough to experience it. When an angler has a tight line, it means there's a good chance that a fish is hooked, and that's the goal of every angler on the planet. The inspiration for our Tight Lines Tarpon long sleeve UV shirt comes from the thrilling tug on the line and the fight between angler and fish. Featuring a stylized tarpon illustration with the words "Tight Lines" enclosed within, we hope that this shirt either serves as a good luck charm for anglers on their way out for a day of fishing, or offers up some bragging rights for those returning with a full cooler. No matter which one you are, we'd like to wish you tight lines wherever you may go.
---
The Technology
Since our headquarters are in sunny Florida, we know all about the ups and downs of life in the sun. That's why our long sleeve sun shirts are made with a special, Skin Cancer Foundation recommended, UPF 50+ sun protection material that helps block out 98% of harmful UV rays. These rays are strongest from mid-morning to mid-day (prime fishing time in our books), so don't let them get in the way of your day; protect your skin and enjoy your time outside!
Stay cool and dry with the help of PURE-tech moisture-wicking technology! Never again will you feel trapped by your own sweat or uncomfortable in the heat again. This beneficial fabric enhancement allows the shirt to maximize absorbency and dry rapidly. The process is simple; when your core begins to sweat, the fabric will quickly wick moisture away from your body and leave you feeling cooler and dryer longer than you would in a normal shirt.
Say good-bye to foul-smelling sweat odors! When your body sweats, bacteria on your skin starts to consume the nutrients in your sweat, which then causes an odor to be released. With M-Shield zinc-based technology, the growth rate of odor-causing bacteria is significantly reduced, leaving your shirt smelling fresher longer. This technology also acts as a defense mechanism to help fight off mold and mildew, making it perfect for activities around water.
---
Breathable Comfort for Active Lifestyles
Whether you're out deep-sea fishing or just causally hanging around town, let everyone know where your true passions lie with this angler-inspired long sleeve sun shirt. This shirt's soft, 100% microfiber polyester fabric features UPF 50+ sun protection as well as moisture-wicking and anti-microbial technologies to help keep you feeling cool and comfortable. Its casual and contemporary women's fit with a wide neckband make this shirt a great choice for a wide range of outdoor activities including fishing, hiking, running, boating, biking, and beach-hopping. You can even wear it as a swim rash guard to protect your core while enjoying some waves in the ocean. With so many beneficial fabric enhancements, you'll want to wear this stylish shirt everywhere!